We'll be grading all of the
NFL offseason moves
-- signings and trades -- right here in March, so check this file for updates as the deals come in. Grades go all the way back to
the Alex Smith deal
before Super Bowl LII.
Most recent grades and write-ups are at the top.

Grade for Bills:
B+
Grade for Bengals:
B
Buffalo general manager Brandon Beane refuses to stop in his attempt to hoard as many draft picks as possible, presumably to trade up for a new quarterback. Now he might not need to make a deal at all. By
unloading a player he didn't want in Glenn and swapping
a fifth-round pick for one in the sixth, Beane was able to move his top draft pick up from the 21st selection to the 12th pick.
The quarterback Beane wants might still be on the board at 12. He also can hold on to a fair amount of his pick haul; if Beane wants to move up for the third pick, as an example, the Jimmy Johnson chart says the Bills would only need to deal their two first-round picks and the third-rounder they
just got from the Browns
.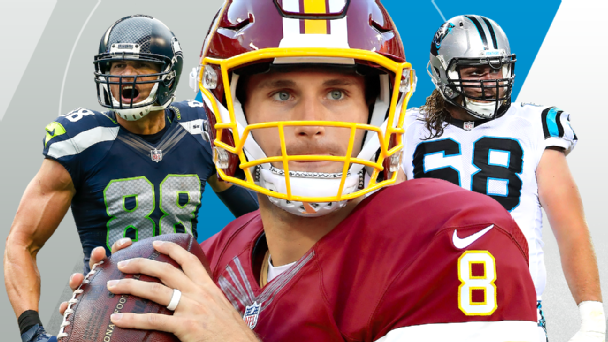 Kirk Cousins. Jimmy Graham. Andrew Norwell. This class could get wild. Here's everything to know heading into free agency.
• Latest notable signings, trades »
• Barnwell's free agency & trade grades »
• Adam Schefter's news and notes »
• Signings, analysis for all 32 teams »
• Mega-guide to 2018 free agency »
•

Ranking top 100 NFL free agents »
•

Picking best fits for top free agents »
At the same time, it's fair to wonder whether the Bills should have been this aggressive to move on from an above-average left tackle in the prime of his career. Glenn's extension was massive at the time, but the Bengals are acquiring Glenn with three years and $30 million left on his deal. That's not an awful contract by any means, and while the Bills were impressed with rookie Dion Dawkins last season, Buffalo could have kept Glenn on the left side and installed Dawkins as an upgrade over Jordan Mills at right tackle. Their new quarterback might have appreciated having Glenn around.
As for the Bengals, their offense was sunk by a dismal offensive line last season. The move to push overmatched right tackle Cedric Ogbuehi to the left side as a replacement for Andrew Whitworth was disastrous, and they couldn't run behind that line in 2018. Glenn should be a massive upgrade at a major position of need.
By the Johnson chart, the draft picks cancel out to essentially value Glenn as worth the 51st overall pick in the draft, a pick in the middle of the second round. In making this move, though, the Bengals are essentially saying they don't trust their ability to develop a left tackle, given that they could easily have drafted a tackle at 12 themselves. After last year, it would be difficult to disagree with them.
Grade: C
When Tampa Bay drafted O.J. Howard with the 19th selection in last year's draft, it seemed likely that the Bucs would be moving on from their incumbent tight end, given that Brate was due to become a restricted free agent after the 2017 season. Instead, after Brate's 591-yard, six-touchdown season, the Buccaneers made a major investment and signed him to a six-year, $41 million extension with $18 million guaranteed.
The Bucs have plenty of cap room, and their deals are almost always two-year contracts with what amounts to team options tacked on, but it's hard to believe they'll use Brate frequently enough to justify this sort of outlay. The Harvard product finished his first full season in 2017 and still played only about 55 percent of Tampa Bay's snaps in 2017. The Bucs will point to his success in the red zone with Jameis Winston under center, but red zone performance is wildly inconsistent from year to year.
We're still waiting to see the exact structure of this deal, but it's entirely possible we're looking at a top-five tight end contract over two and three years for a player who might not even be the best tight end on his own roster. This feels a lot like Tampa Bay paying for the player it wants Brate to be as opposed to a realistic evaluation of his play.
Grade: B+
It's hard to find much fault, on the other hand, with the contract Tampa Bay handed its star wide receiver. Evans was entering the fifth-year option of his rookie deal, and the obvious reference point for a contract was the five-year, $81 million extension DeAndre Hopkins picked up in August before playing out his own fifth-year option.
The difference between the two was their draft position. Hopkins was drafted with the 27th pick, making his fifth-year option a relatively team-friendly $7.9 million. As a top-10 pick, Evans was entitled to a far bigger fifth-year option, as the Bucs were on the hook for $13.3 million before signing him to an extension.
With that in mind, it's a surprise that Evans was able to make only a modest leap over the maximum value of Hopkins' deal, with his contract coming in at five years and $82.5 million. The trade-off is in the money early in the deal. Spotrac reports that Evans will make $54 million over the first three years of the deal, which would be the most of any wideout in history. Hopkins' new pact came in at $49 million over three years.
The difference between the three-year money and the difference between those fifth-year options is essentially identical, but even so, it's a surprise that Evans and his representation weren't able to get more given the 6.1 percent rise in the salary cap over last season. There's every reason to think the 24-year-old will continue to rank among the league's top wideouts, and while he just became the highest-paid wide receiver in football by the three-year money, the Buccaneers appear to have gotten off pretty easily with this extension.
Grade: B
The recent track record of superstar cornerbacks leaving their old homes for new digs is mixed, at best. Nnamdi Asomugha went from being a true side eraser for the Raiders to being borderline unplayable for the Eagles at age 31. Darrelle Revis was a major disappointment after leaving the Jets for the Buccaneers; and while Revis produced an above-average season in winning a Super Bowl with the Patriots, age caught up to him during the second year of his second run with Gang Green. Revis was essentially finished at 31. Things went better for Aqib Talib in Denver, but after Talib's age-31 season, the Broncos decided they were better off going with Bradley Roby and shipped Talib off to the Rams.
Sherman will turn 30 later this month and will be coming off a ruptured Achilles tendon he suffered in November, so the odds are against him returning to his perennial All-Pro form for a significant length of time. The good news is that he landed in a welcoming location with the 49ers. The Seahawks were more diverse in their coverages than some might suggest, but Sherman's size, instincts and spatial awareness made him a perfect fit for the Cover-3 that Seattle ran as its base coverage. Niners defensive coordinator Robert Saleh was an assistant with the Seahawks and Jaguars under Gus Bradley, so he should have no difficulty finding a familiar spot for Sherman along the sidelines.
The future Pro Football Hall of Fame candidate was able to sign a three-year, $39.2 million deal one day after being released by the Seahawks, who didn't want to pay him an $11 million base salary in 2018. The contract, according to reports, is really a one-year, $9 million deal with incentives. If Sherman makes the Pro Bowl in 2018, the Niners will pay him $3 million and trigger $16 million in guarantees over the next two seasons. General manager John Lynch & Co. would be assuming some risk by paying Sherman through his age-32 campaign, but the structure of the deal allows the Niners to stay out of danger if Sherman doesn't return to form. It's a fair deal for both sides, and that first Seahawks-49ers game can't get here soon enough.


Browns: C+
Patriots: B+
Another former University of Washington star defender goes on the move this offseason, but unlike Marcus Peters, Shelton hadn't quite hit the heights his prior team had hoped. Cleveland's 2015 first-round pick was drafted with the idea of being a nose tackle in Mike Pettine's 3-4 alignment. But after spending two years in that 3-4 under Pettine and replacement Ray Horton, the Browns moved to a 4-3 under defensive coordinator Gregg Williams last season.
Shelton is never going to rack up big stats, but he was an effective piece in a Browns run defense that quietly finished fourth against the run in DVOA in 2017. Splitting out individual pieces of a run defense is nearly impossible, but during Shelton's career in Cleveland, the Browns were far stouter with him on the field. Cleveland allowed 3.9 yards per carry and 20.6 percent of rushes to turn into a first down or a touchdown with Shelton on the field. With the former 12th overall pick off the field, the Browns allowed 4.7 yards per rush and a conversion 26.2 percent of the time.
The 24-year-old Shelton should slot in as a replacement for the departing Alan Branch up front for the Patriots. New England was 30th in the league against the run, and while Branch had been impressive in previous seasons, he had fallen so far out of favor that the Pats scratched him for Super Bowl LII in favor of keeping Malcolm Butler inexplicably active. New England will probably decline Shelton's fifth-year option, given that run-stuffing defensive linemen just aren't making eight-figure salaries often in free agency; but it wouldn't be a surprise to see the Pats offer Shelton a contract extension if he starts his career in Foxborough well.
The return isn't much for the Browns. Cleveland sends a fifth-round pick in this year's draft to the Patriots, although it's unclear whether it'll be the pick the Browns acquired from the Packers on Friday or the fifth-rounder the Browns picked up from the Chiefs for another former first-round pick, Cam Erving. In return, Cleveland will get a 2019 third-rounder, but given the Patriots' nearly unprecedented run of success, it seems extremely likely that pick will fall into the 90s next year.


Grade for Packers: C+
Grade for Browns: B+
Kizer needed a change of scenery after his disastrous rookie season, and Browns general manager John Dorsey might have found a new free safety by trading for a struggling cornerback in Randall. Read the full analysis here.



Grade for Bills: B+
Grade for Browns: B-
The Bills got a meaningful pick for a player they were going to cut in Taylor, giving them another asset for a possible trade up in this year's draft. Read the full analysis here.


Grade for Dolphins: B-
Grade for Browns: C+
Landry is an upgrade at receiver for the Browns, but it's hard to see him returning much value on the massive extension he's likely to sign to stick around in Cleveland. Read the full analysis here.


Grade for Eagles: A-
Grade for Panthers: C
It's difficult to believe that the Panthers sent an actual asset to the Eagles for Smith, given that Philadelphia was virtually guaranteed to decline the former Ravens star's $5 million option for 2018. Smith's impact was underrated by his final numbers (36 catches for 420 yards and two touchdowns) -- he got open downfield far more frequently than it seemed, but was let down by some subpar deep throws by Carson Wentz and Nick Foles. Smith also chipped in with a few drops, which didn't help matters.
The Panthers needed wideout help alongside Devin Funchess, but it's hard to figure that they were really bidding against other teams who wanted to assume Smith's contact for 2018 and trade an asset in the process. Smith probably would have struggled to get the two years and $10 million left on his deal as a free agent.
In lieu of possibly netting a compensatory pick for Smith, the Eagles instead take home another cheap cornerback in Worley, who started 25 games over his two seasons in Carolina. Worley hasn't developed as much as fellow 2016 draftee James Bradberry and fell into a rotation at times with Kevon Seymour, who should now have a clear path to a starting role. The Eagles want to spend money at just about every position besides running back and cornerback, and Worley gives them another low-cost option as they try to replace Patrick Robinson, who will likely leave in free agency this offseason.



Grade for Broncos: B
Grade for Rams: B-
The Rams appeared to enter the offseason with serious question marks at cornerback, but in a matter of two weeks, they've pieced together what might be the best cornerback duo in football. After trading for Marcus Peters, the Rams added another playmaking veteran on the outside by dealing a fifth-round pick to the Broncos for Talib, whose departure from Denver had been rumored since the end of the regular season.
Denver had clearly made the decision to promote fifth-year corner Bradley Roby into an every-down role at the expense of Talib, who failed to pick off more than one pass for the first time in his professional career last season. Given that decision, John Elway did well to create a market and pick up a fifth-round pick for a player the Broncos seemed likely to release. With Roby and Chris Harris Jr., the Broncos should still be set at cornerback for years to come, and Denver can put the $11 million they owed Talib toward a new deal for Roby and/or their bid for Kirk Cousins.
Wade Phillips must be excited to reunite with his former star pupil. There are certainly signs of decline from Talib, who had a particularly rough game against Alshon Jeffery when the Broncos played the Eagles last season, but he's still an above-average cornerback as he enters his age-32 campaign. That lone pick was a Dak Prescott throw he took 103 yards back to the house, so the wheels are still there.
At two years and $19 million, the Rams aren't paying an exorbitant amount for Talib at his current level of play, since the going rate for solid 1A cornerbacks in free agency these days is $10 million per season. If Les Snead restructures Talib's deal and adds guaranteed money after this season, I would be a little concerned, but this is a logical acquisition for the Rams. Throw in the low-cost addition of cornerback Sam Shields, who sat out in 2017 as he recovered from a concussion, and the Rams probably have the best set of corners in the game.
Watching the Los Angeles defense is going to be fun next year. Peters and Talib are absolute ball hawks who fool quarterbacks into throws they regret from the moment the ball leaves their hand, but they also take risks and get beat by double-moves more than most cornerbacks of their ilk. It will be on franchised free safety Lamarcus Joyner to clean up when his cornerbacks get beat, and on the Aaron Donald-led pass rush to get home quickly and allow L.A.'s two star cornerbacks to break on the football.
Grade: B-
Last year went disastrously for Baker, who left Washington to sign a three-year, $15.8 million deal with Tampa Bay. Baker got $6 million guaranteed but did little during his season in Tampa, racking up just a half-sack, five quarterback knockdowns and two tackles for loss across 437 defensive snaps. Baker didn't win the locker room over, either, with teammates having to stop quarterback Jameis Winston from getting in Baker's face after a critical encroachment penalty on fourth down late against the Panthers.
The Bengals have a long history of taking on reclamation projects with some success under Marvin Lewis, and at one year, $3 million, Baker doesn't come with much risk. The 30-year-old is down to 300 pounds, a noticeable drop given that he was listed at 320 and likely played at a larger weight last season. The Hampton product racked up 9.5 sacks and 27 knockdowns between 2015 and 2016, so if Lewis can turn Baker back into a useful interior pass-rusher, the Bengals will have a steal on their hands.



Grade for Rams: C+
Grade for Giants: C
The Giants were loathe to spend money on coverage linebackers under the reign of general manager Jerry Reese, who never adequately replaced Antonio Pierce in the middle of the field after the playoff hero finished his career in 2009. Draft picks like Jonathan Goff and a bevy of free agents -- everyone from Jon Beason to J.T. Thomas -- couldn't stay healthy or play effective football. With new GM Dave Gettleman coming over from a Panthers organization that built its defense around Thomas Davis and Luke Kuechly, it's no surprise that he might want to address inside linebacker this offseason.
Of the candidates the Giants have brought in since Pierce, Ogletree is certainly the most likely to succeed, but it's hard to argue that the former Georgia star is likely to return value. The 26-year-old is a stud athlete, but he hasn't been able to turn those measurables into significant production since 2014. Ogletree forced 10 fumbles over his first two seasons, but he has been responsible for only two strips in the three years since. He made tackles on 16.1 percent of Los Angeles' run plays last season, a rate that ranked 60th in the league among players with 200 run snaps or more.
The problem is that Ogletree plays a position the league really doesn't seem to value with significant contracts. The Rams signed Ogletree to a four-year, $42.8 million extension last October, and the Giants will essentially have Ogletree on a four-year, $38 million deal with $10 million guaranteed, all coming this season. That's not in line with what better players have gotten in free agency; Dont'a Hightower, for one, got four years and $35.5 million to stay with the Patriots last offseason. Useful players such as Zach Brown, who is back in the market this year, had to settle for a one-year pact. It's difficult to believe Ogletree would have received this much if he were a free agent.
The Rams free up cap space as part of this deal, which marks the second expensive defender they've dealt away in a week after trading Robert Quinn to the Dolphins. It now seems more likely that they'll hang on to fellow linebacker Mark Barron, who seemed like a plausible cap casualty. L.A. will have $6.5 million in dead money on its cap for Ogletree this year, but with $47.3 million in space, the Rams can use the savings to bring back receiver Sammy Watkins, who would otherwise be an unrestricted free agent. Defensive coordinator Wade Phillips has helped develop unheralded inside linebackers such as Todd Davis and Brandon Marshall in years past, so the Rams might be able to get by without big-money players on the interior.
Gettleman gives up fourth- and sixth-round picks to the Rams, who send a 2019 seventh-rounder back as part of the deal. The Giants managed to avoid sending the 102nd pick and instead sent their later fourth-rounder, the 135th selection, but they're not in a position to trade away draft picks given how bereft the back of their roster is at the moment. This is a better swap for the Rams.


Grade for Seahawks: C
Grade for Eagles: B+
Grade: D


Grade for Rams: C+
Grade for Dolphins: C+
Grade: B+


Grade for Chiefs: C
Grade for Rams: B+


Grade for Chiefs: B
Grade for Washington: B
Plenty of people figured the Chiefs were going to trade Alex Smith this offseason to free up their starting job for 2017 first-round pick Patrick Mahomes. They were half-right. The Chiefs didn't wait until the offseason to make their move, agreeing to a deal to trade Smith to Washington for a third-round pick and cornerback Kendall Fuller.
Washington's stunning trade for a new quarterback should reverberate around the league; a half-dozen teams that weren't involved with the deal suddenly saw their offseason plans change or come into focus. The deal (and Smith's subsequent extension) obviously suggest Washington will be moving on from incumbent quarterback Kirk Cousins, who will hit unrestricted free agency.
Here's my story breaking down the winners and losers from this swap.