BEREA, Ohio -- Todd Haley said he has turned the page, but the offensive coordinator started his first news conference with the
Cleveland Browns
by talking about how proud he was of his success the past six seasons with the
Pittsburgh Steelers
.
"Did a lot of really good things," Haley said Wednesday. "We developed arguably the best receiver in the league (
Antonio Brown
). Developed arguably the best back in the league (
Le'Veon Bell
). Developed one of the top quarterbacks in the league (
Ben Roethlisberger
). Consistently did a lot of good things, scored a lot of points."
How does Haley reconcile having such great success with the Steelers and not being kept after his offense scored 42 points in a
playoff loss
to Jacksonville?
"I hate this phrase," Haley said, "but it is what it is."
The Steelers' loss is the Browns' gain. Cleveland head coach Hue Jackson gave up the offensive coordinator duties to a guy who in Pittsburgh was known for a high-powered offense and brutal honesty with players and other coaches.
Jackson willingly stepped back to the point that the Browns will use Haley's terminology while working to combine Haley's approach with Jackson's. Haley said he's not a system guy and has no offensive philosophy other than one emphasis: "Whatever gives us the best chance to win, that's what we're doing," he said.
In Pittsburgh, Haley's offenses finished third, seventh, third and second in total offense the past four seasons. He cut down on Roethlisberger's sacks, got Brown to be the first player in NFL history with 100 or more catches in five consecutive seasons and saw Bell turn into the NFL's best all-purpose back.
In Cleveland, Haley has
Josh Gordon
at receiver but uncertainty at quarterback and running back. He also has gone from a team that went to the playoffs four years in a row to one that has one win total in the past two seasons.
"I had some options, but this really appealed to me," Haley said. "The challenge aspect of it. Hue, like I said, [owners Jimmy and Dee] Haslam and [GM] John [Dorsey]. I think there's pieces in place to be successful."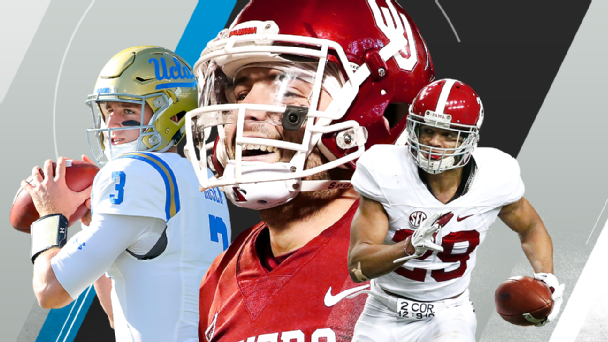 When: April 26-28
Where: Arlington, Texas
NFL draft home page » | Draft order »
•

Todd McShay's Mock Draft 2.0 »
•

Mel Kiper's Mock Draft 1.0 »
• Which NFL teams could draft a QB? »
• Kiper's Big Board » | McShay's Top 32 »
• 2018 draft QB class primer »
• Underclassmen who have declared »
Haley offered few specifics about players or plans because he's still doing initial evaluations, but he said he welcomed the chance to work for a head coach who was also the team's offensive coordinator the past two seasons. Haley said he had a similar situation when he went to Arizona as offensive coordinator in 2007 under Ken Whisenhunt, who had called plays before for the Steelers.
"I always say I don't care where ideas come from -- other coaches or players," Haley said. "I just want the best idea that gives us the best chance to succeed."
Haley will be part of evaluating the quarterbacks in the draft, and he no doubt will attend pro days and workouts with Jackson. As for word that his confrontational style with Roethlisberger led to his departure from the Steelers, Haley smiled.
"I don't have a lot to say about it," he said. "I do know that how I was mentored and taught early was that the coach's job is to come in and coach the players, develop the players first and foremost. That has to be No. 1. That's really how I go about business."
Haley's other smile came when he was asked whether he felt sorry for the Browns going 1-31 the past two seasons.
"No," he said. "Not in this business."
Haley's Pittsburgh roots run deep. His father, Dick, played for the Steelers and worked in their front office from 1971 to 1990. Todd Haley grew up watching and disliking the Browns -- until he was befriended by former Cleveland coach Sam Rutigliano. And, of course, Haley spent the past six seasons with the Steelers as their offensive coordinator.
"We had Steelers stuff stocked up for six years," he said, "and people are amazed that when you go somewhere else, you put it in a box and see who wants it."