He was known as "The Grim Reaper."
For 12 season,
Stu Grimson
lived up to the moniker as one of the most feared fighters in the NHL. He played 729 games, and amassed 2,113 penalty minutes, most of them earned after pounding the face of an opponent.
A typical season for him: In 2000-01, Grimson had 235 penalty minutes with 19 fights. That he only played six minutes per game and contributed just five points in 72 of them was immaterial, because one did not sign The Grim Reaper for his offensive acumen. His role was seen as a necessity, because fighting in the NHL was prevalent: Over 38 percent of all NHL games had a fight (469 games) and there were 0.56 fights per game -- the kind of thing that used to inspire "I went to a fight, and a hockey game broke out" jokes.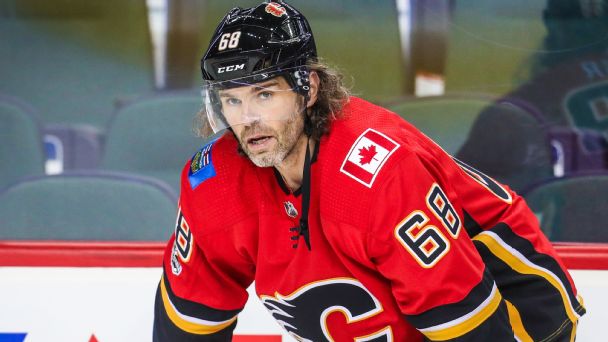 Greg Wyshynski and Emily Kaplan dish on potential conference realignment, Jaromir Jagr's future and much more. Plus, Jason Mackey of the Pittsburgh Post-Gazette joins to discuss the Penguins' rocky road, and Coyotes LW Max Domi stops by. Listen »
Almost two decades later, hockey fighting hasn't just declined -- it's cratered. According to HockeyFights.com, the industry leader in tracking puck pugilism, the number of games with a fight in the NHL is projected to dip below 20 percent for the first time since it began tracking the stats in 2000. The number of fights per game (0.22) and the number of games with a fight (220) are also projected to hit new lows. This comes after a brief uptick in fighting last season -- 306 games with a fight, compared to 288 in 2015-16.
"We're moving into a place where there are games that feel like they call for a fight, but there's nothing there," said David Singer, who runs HockeyFights.com.
That's because a fourth-line enforcer like Grimson is all but extinct. Fights are no longer the norm in NHL games, but rarities that are quickly shared by fans through social media for their sheer oddity. "We don't see people running around for message-sending, or getting into a fight at the end of the game for giggles," Grimson told ESPN this week.
Why has fighting fallen off a cliff?
The easiest answer is that it's been headed for that cliff since 2005, when the NHL changed its rules during its locked-out season to create a faster, more offensive game. The downward trend for fighting didn't happen immediately, but by 2009 it was apparent that the culture had shifted. "We saw some pretty stark changes, and it's taken a while for those changes to completely permeate. The game's gotten faster. At the end of the day, there's a little less room for a player that's predominately a physical player. Roster space is precious. You need guys that bring three, four tools," said Grimson.
Hence, the twilight of the "enforcer." There's only one player in double-digits in fights this season: Micheal Haley of the Florida Panthers, with 11. In 1997-98, there were 56 players with at least 10 fights.
But there's also something about scoring rates this season -- at 2.95 goals per game, offense is at its highest peak since 2006-07 (also 2.95) -- that Grimson correlates with the fighting decline. There isn't just parity in the standings, but parity in games. There's so much scoring, and the teams are so closely matched, that players are more engaged, knowing that they're usually not out of games.
"One of the primary justifications for a fight is to pick up your team when it gets down or starts flat. It can change momentum in the game. But now that teams are more closely matched, we just don't have as much as that as we used to. So, from one season to the next, it's evolved," said Grimson.
Could health also be a factor? After all, NHL players know more about concussions and CTE now than they did back when Grimson was playing. Could it be that new generations of players are avoiding fights?
"I don't know if I subscribe to that. If you took the total universe of concussions, less than 10 percent of them are caused by a fighting altercation. For the person who that's concerned about their cognitive well being, they're probably going to stay away from the game altogether," he said.
I started watching hockey in the 1980s. Fighting was a part of my upbringing as a fan, and it's the brand of NHL hockey I'll probably always appreciate the most because of its unshakable nostalgic appeal. I used to be a snob about it, but I've finally arrived at a place where I'm no longer casting the stink eye at a younger fan who sees fighting as a relic or a bastardization of the game they would rather watch. Today's game isn't my game, but that doesn't mean it isn't extraordinarily entertaining and captivating on its own merits.
It's not fashionable to say it, but I miss fighting. It added an edge to games. It added a little bit of hate to games. As the NHL tries to sell rivalries as its lifeblood, it's hard to accept a sanitized version of these feuds for those of us that used to watch blood spilled during divisional smack-downs. There's a real "who sucked out the feeling?" thing going on in the NHL, especially the regular season. But Singer thinks this isn't tied to a decline in fighting as much as fighting is a bellwether for it.
"Fighting isn't the only way to show emotion, but there's something lacking, and it's more than fighting. It just happens to mirror the decline," he said.
Hockey is, if nothing else, a sport of trends. Sometimes we score for a few seasons, and then a defensive era takes hold, and then we change some rules and we're scoring again. So, could fighting boomerang back? Could the fists raise again?
To answer that, Grimson offered a history lesson.
"Fighting in the game has gone from being purposeful to being almost random in the 1990s. You had these nuclear warheads on these teams, justifying their existence. And today it's almost like a tactical ploy, to turn the momentum. To me, that's the primary reason we see it today. That's been the trend," he said. "I can't envision a circumstance where it goes back in the other direction -- especially in a political climate we find ourselves in today."
When the Grim Reaper says hockey fighting is basically dead, one listens.
1. The Canadian Olympic men's hockey team was announced Thursday, and it's good to see the reactions have gone from crying about the lack of NHL participation in Pyeongchang to being genuinely (or at least generally) excited to see a collection of super-random players represent their countries and attempt to win gold. Who among us after the Sochi Games thought Canada's best hopes for a three-peat would rest on the shoulder pads of Maxim Lapierre, Mason Raymond and René Bourque? Not you, nor I. Which is part of the fun of it.
2. The team is basically a KHL expansion club, with 13 players from the Russian league on the roster, compared with five for the Americans, for example. Another big difference is NHL experience: The Americans have 15 players that made the show, while Canada has 23 NHL vets out of 25 players on their roster. They see your Brian Gionta, and raise you a Chris Kelly.
3. The biggest stunner was the lack of P.A. Parenteau on this roster. He had 28 points in 67 games last season in the NHL, was in Red Wings camp in the fall and played for Canada at the Spengler Cup. Is this a big-ice thing?
The other stunner, at least from those who watch him regularly, was goalie Justin Peters. He has played for Dinamo Riga (KHL) and Cologne Sharks (DEL) this season and had a save percentage below .891 in both. Obviously, there weren't many other options, and this is likely a third-stringer. But Peters is probably the fifth-best goalie on Team Canada when you factor in general managers Sean Burke and Martin Brodeur, even at their current levels of game-fitness.
4. There is no better story on Team Canada than Wojtek Wolski, who broke his neck in a KHL game in 2016.

"He thought his career was over a year ago. You saw his photo in the hospital bed, with his brace on. And last night he said he looked at that photo, and he just cried," coach Willie Desjardins said.
5. (Hey fellow patriots: Are the Canadians still reading, or are they reaching for the tissues after getting emotional about that Wojtek Wolski bit? Tissues? OK, good, listen: Having seen these rosters ... we're going to finally beat them in the medal round, and it's going to be glorious. U-S-A, Sam's Army, Eagle gif, fireworks. Let's go.)
From reader AJ:
- AJ (@AirTrafficAJ) January 7, 2018
There were several moments in reading that jersey when I expected it to tumble into a double entendre, but we're clear. He's just kind of a big deal, is all. For the record, among the No. 21s in North Dakota men's hockey history: Tony Hrkac and Matt Frattin.
The NHL announced its All-Star teams on Tuesday, which then sent the hockey world into divergent directions: snub chroniclers and snub truthers.
The chroniclers loudly lamented that some players -- Phil Kessel, people! -- were overlooked in favor of other less deserving players based on their performances this season. The truthers, meanwhile, were telling the world that there's no such thing as a "snub" when the rosters are so small and every team is required to have a representative in the game.
The biggest problem with the NHL All-Star Game, in its latest incarnation, is that it can't decide whether it's a promotional event for fans and sponsors, whose only qualification for selection is celebrity status; or if it's a meritocracy. Putting Josh Bailey of the New York Islanders and Brayden Schenn of the St. Louis Blues in the All-Star Game would indicate it's a meritocracy -- they're both top-15 scorers this season, but previously never had to worry about beach plans being interrupted by a potential All-Star selection. Putting Marc-Andre Fleury of the Vegas Golden Knights in over Anaheim Ducks goalie John Gibson, and Vegas's James Neal in over the team's leading scorer Jonathan Marchessault, would indicate that name recognition and storylines trumped merit.
So until the meritocracy of the All-Star Game completely crumbles in favor of a roster full of the guys who sell the most jerseys, we're going to have snubs.